Basketball Filming Rig
When it comes to filming sports, basketball proves to be nothing short of an intense run and gun action. It'll require your full attention and lots of SD card room since you'll be rolling your camera almost constantly. And don't forget about bathroom breaks. I've got to experiment this filming the Ignite Hoops basketball teams at one of their games. This basketball filming rig I used had to be lightweight given the stealth action and nature of the game.
Lenses
You will need a decent zoom lens since you'll be 'snapping' in and out of the player's shots, showing the action up close and ending with a wider shot showing the result, hopefully, a score. Mine was a Sony E PZ 18-105mm f/4 G OSS lens, which has a decent coverage if you are positioned somewhere along the sidelines. I attached a cheap Fotodiox Follow Focus Handles to the zoom ring of the lens, and let me tell you that it was my little friend throughout the whole shoot. This style of zoom snapping will come in handy when you want to cut between a close-up and wide shots in editing.
I was worried about getting those nasty floor reflections but looks like I didn't have to deal with them either because of the angle I was shooting from (same level as the players) or because I had a 72mm X2 CPL Circular Polarizing Filter on my lens that took care of all those evil glares.
Lighting
Don't expect much from an artificially lit sports hall. For one, the light quality is pretty poor, sometimes mixed with natural light pouring through the windows, and second, you might have to push things beyond 800 for a decently exposed scene. Make sure you arrive a bit earlier at the place and pull a good custom white balance. It will make your life so much easier in post-production. Actually, make that crucial. You can pretty much destroy otherwise great footage by having the wrong white balance. I've done it, and it hurts.
Focusing
I have to say that I didn't touch the focus ring once on my Sony a6500. It was on continuous focusing all the time with the drive speed set to fast and the focus area set to the middle region. The combination of the zoom lens and camera were working together very precisely in this frantic environment where everything is moving constantly in the frame.
Stabilization
Monopod, without a doubt. The one I have here is a lightweight Slik 350 with a Manfrotto 502 Video Head. The handle on the head added an extra stabilization support by having it propped under my arms. Initially, I was going to use my shoulder rig, but I changed my mind 30 min before leaving. Lucky me since I would have gotten instant lumbago running around with a 14 lbs rig for 3 hours on my shoulders. Not the ideal basketball filming rig if you think about.
I tried having the camera on a gimbal (like the Zhiyun Crane v2) but it simply didn't work. When you are in an environment where you are following a ball that goes back and forth between players at high speed, a gimbal would not be able to follow the movement without a lag. That would make sense indeed in different settings but surely not in a high energy game like basketball or similar.
Maybe it would work in figure skating or chess. I don't know.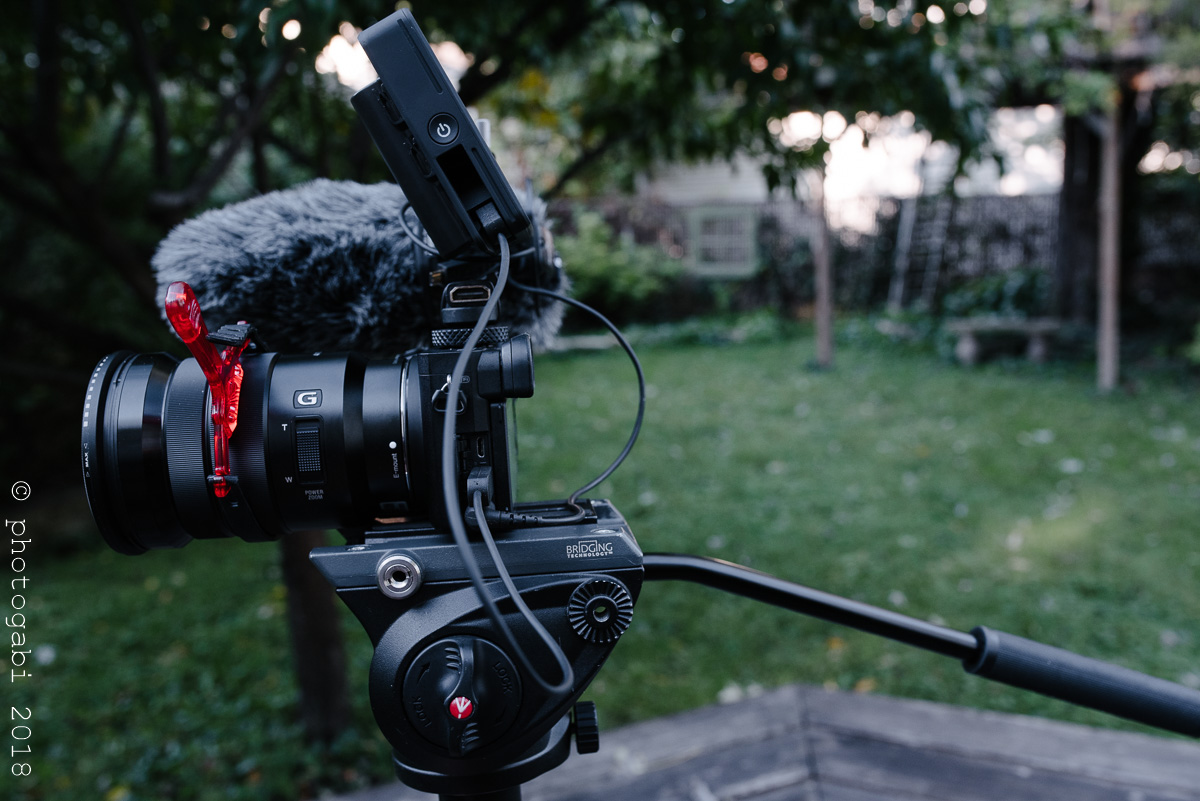 Shutter Speed
Here I tried something different just to see the results. I know the rule of having your shutter speed at double the framerate (which in my case was 24fps, so that would have been 1/50 sec). But given the high energy and movement of the game, I wanted to convey a more frantic, unsettling emotion, a la 'Saving Private Ryan' style so I pushed the shutter to 1/160 sec which was a sweet spot at keeping a well-exposed scene with a low grain image having the ISO at 800. And 'well-exposed' is the keyword here in cameras like the Sony a6500 or Sony a7rii since they perform really poorly in low exposed scenes.
Monitoring
Yes, viewing your framing through the camera's screen is OK. But having an external monitor like the SmallHD Focus will be an added bonus for those who are far-sighted as I am. Most of the time I was able to have a proper framing following the ball in the frame. Having the 5″ monitor help bring things into 'focus'. Ha! Believe me, you don't want to miss that ball.
It was intense and fun. Didn't know exactly what to expect since I never shot indoor sports before. Next time I will take along a second shooter to cover all the details like close-ups, slow motions. Or simply to have the luxury of an alternate angle for a certain action shot. For sure this basketball filming rig will be the same for my next sports filming.
And make sure I go to the bathroom before the game starts.