I am an extremely unorganized person. It takes an extra effort to even start planning a photo-shoot. I have numerous ones started but never finished. But it's doable and there's hope. I have no problem visualizing what I want, the ideas, the compositions, the mood. But to actually extract it from my brain and put it into practice, that's another story.
Here is one of the success projects that I was able to at least partially bring it to completion despite the rain at location which made me almost give up if it wasn't for my daughters who insisted of waiting for the rain to pass. It did and now I am glad I listened to them. It all started with a simple sketch which helped immensely with the setup at the location instead of a "hit and miss" which simply does not work with these two models that have a very small time window to work with.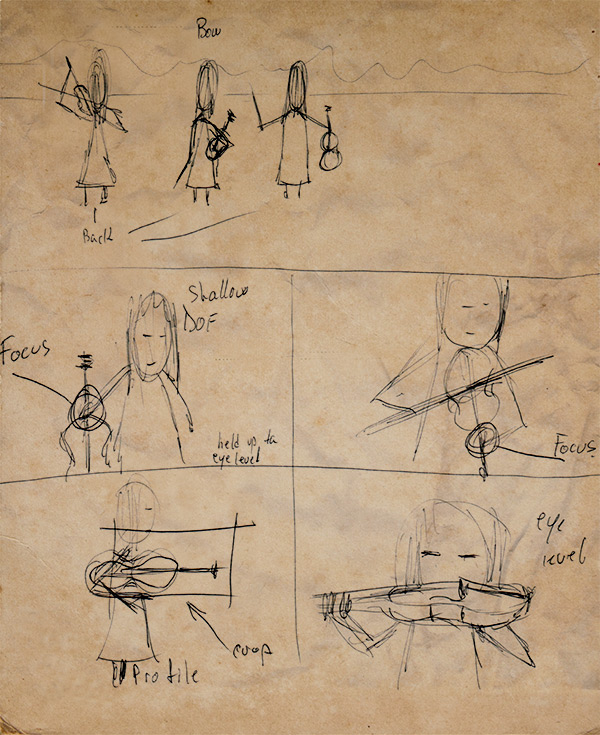 It was overcast (my favorite light to shoot) but still drizzling so we had to hurry since water and musical instruments don't mix too well (the same with my camera). I had many more shots in mind but we had to pack up and get dry since it started pouring again and the girls were complaining that they were getting cold and wet (and they did). But hey, I pay them 1$/hour so they should be happy 🙂
Here are the best of the shots from that rainy afternoon.
(and as always – if you are a first buyer at Stocksy United, use coupon PHOTOGABI20 for a whooping 20% off!)